Resources for learning Spanish
SpanishPod101

SpanishPod101.com offers students a fun and innovative way to learn Spanish. The method uses a series of lively podcasts to teach Spanish at all levels and can be a great supplement to the resources you are already using. You will get great exposure to native speakers and the more you listen to the way the language is really spoken, the better you will learn.
This site has an amazing collection of podcasts in mp3 format, PDFs with the transcripts along with translations, grammar, cultural tips, videos and much more. All these tools will help you immerse yourself in the language and culture of Latin America. They have audio podcasts for Absolute Beginner, Beginner, Intermediate and Advanced levels as well as video lessons. To sign up, just go to https://www.spanishpod101.com for a free 7-day trial and try it out. You will not be disappointed.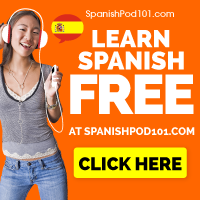 Click here to check out podcasts to learn other languages!!!


Note: LearnPracticalSpanishOnline.com is an affiliate of some of the products reviewed on this website and may receive a commission on the sale of these products with no additional cost to you. Please read our full Affiliate Disclosure Statement.